06/15/2022
Modeling Frontal Polymerization for In-situ Curing of Thermoset Fiber Composites
Dr. Wang's recent paper investigates the effects of the microstructure of unidirectional thermoset fiber composites on the frontal polymerization initiated in the through-thickness direction. The effects investigated include: fiber volume fraction, fiber tow size, and fiber tow shape. The results are expected to provide insights into the scale up of frontal polymerization for future additive manufacturing. https://doi.org/10.1002/app.52735. [PDF]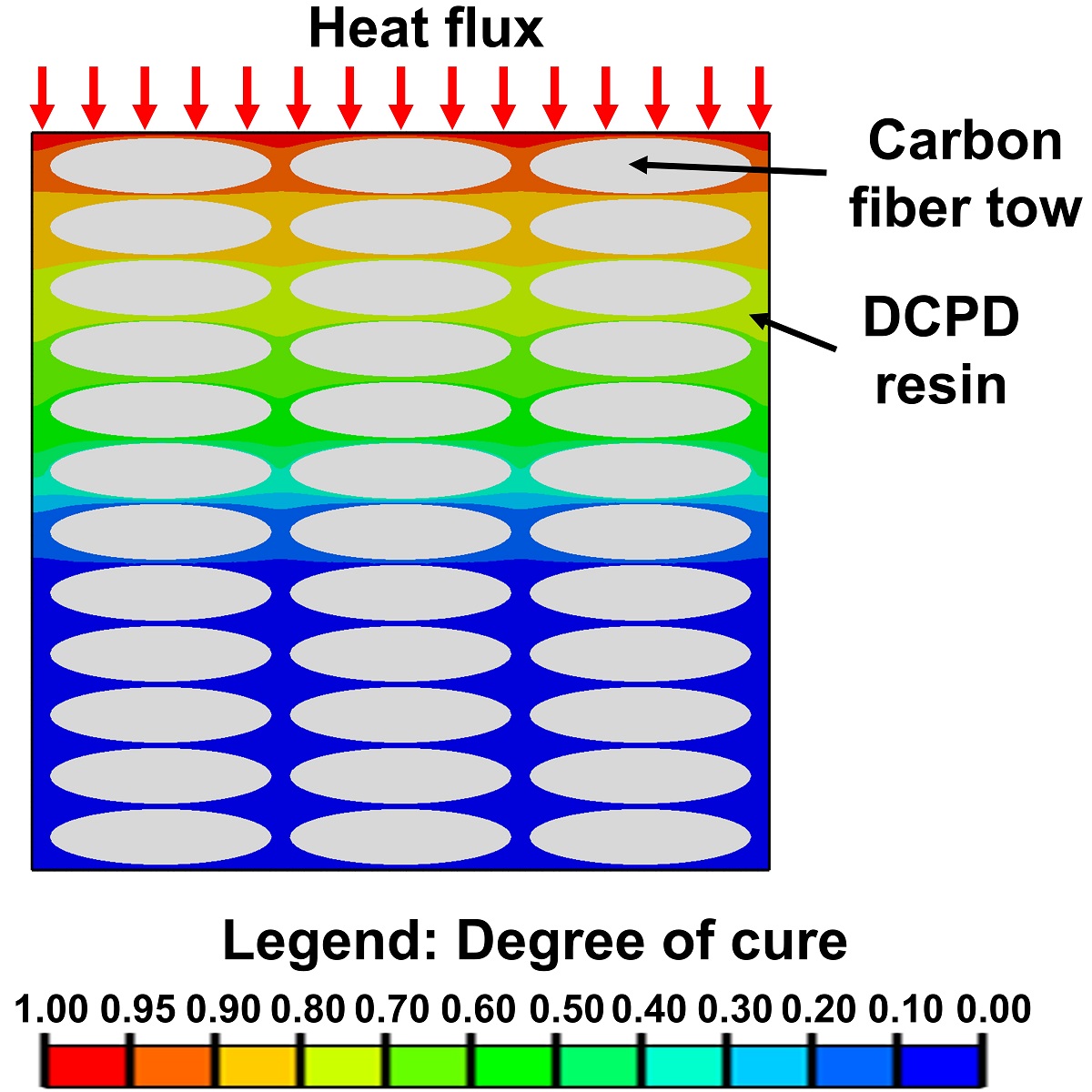 ---
06/06/2022
Welcome Andrea Hoe, Anthony Tricarico, and Yiyuan Sun!
Anthony and Yiyuan will work on some exciting research projects with Dr. Wang at his Composite Materials Lab this summer. They are supported by the summer REU program. Anthony is a returning REU student, who also worked at Dr. Wang's lab last summer. Andrea is a undergraduate student in the School of Architecture. She received a SOURCE research grant from Syracuse University and will work with Dr. Wang from summer 2022 to spring 2023 on a very exciting research topic of the additive manufacturing of space habitats using composite materials. Welcome everyone!
---
04/19/2022
Conductive Aerospace CFRP Composites Containing Carbon Nanotube Particles for Lightning Strike Damage Mitigation
Below shows how the lightning strike damage of aerospace carbon fiber reinforced polymer composites is mitigated by adding conductive nanofillers, specifically, carbon nanotube (CNT) particles. The third one is an scanning electron microscopy image showing the uniform dispersion of CNT particles in the composites. Detailed results and discussions are published in our recent paper. https://link.springer.com/article/10.1007/s10443-022-10028-1.

---
04/15/2022
Spencer Lampkin Received the Outstanding TA Award!
Spencer Lampkin received the Outstanding TA Award of the Department of Mechanical and Aerospace Engineering. Congratulations to him!
---
04/09/2022
Lab Open House Day!
Composite Materials Lab opened to the public on the ECS open house day on April 9, 2022. Dr. Wang (wearing face mask in left photo) and his graduate student, Spencer Lampkin (in red coat in right photo), introduced the lab to our visitors, presented our composite specimens and research work, and highlighted the research impact on industry and society.

---
03/25/2022
Graduate student presented at the 2022 ECS Research Day Event!
Spencer Lampkin presented his research work on rapid curing of thermoset fiber composites for additive manufacturing and repair at the 2022 College of Engineering and Computer Science Research Day Event.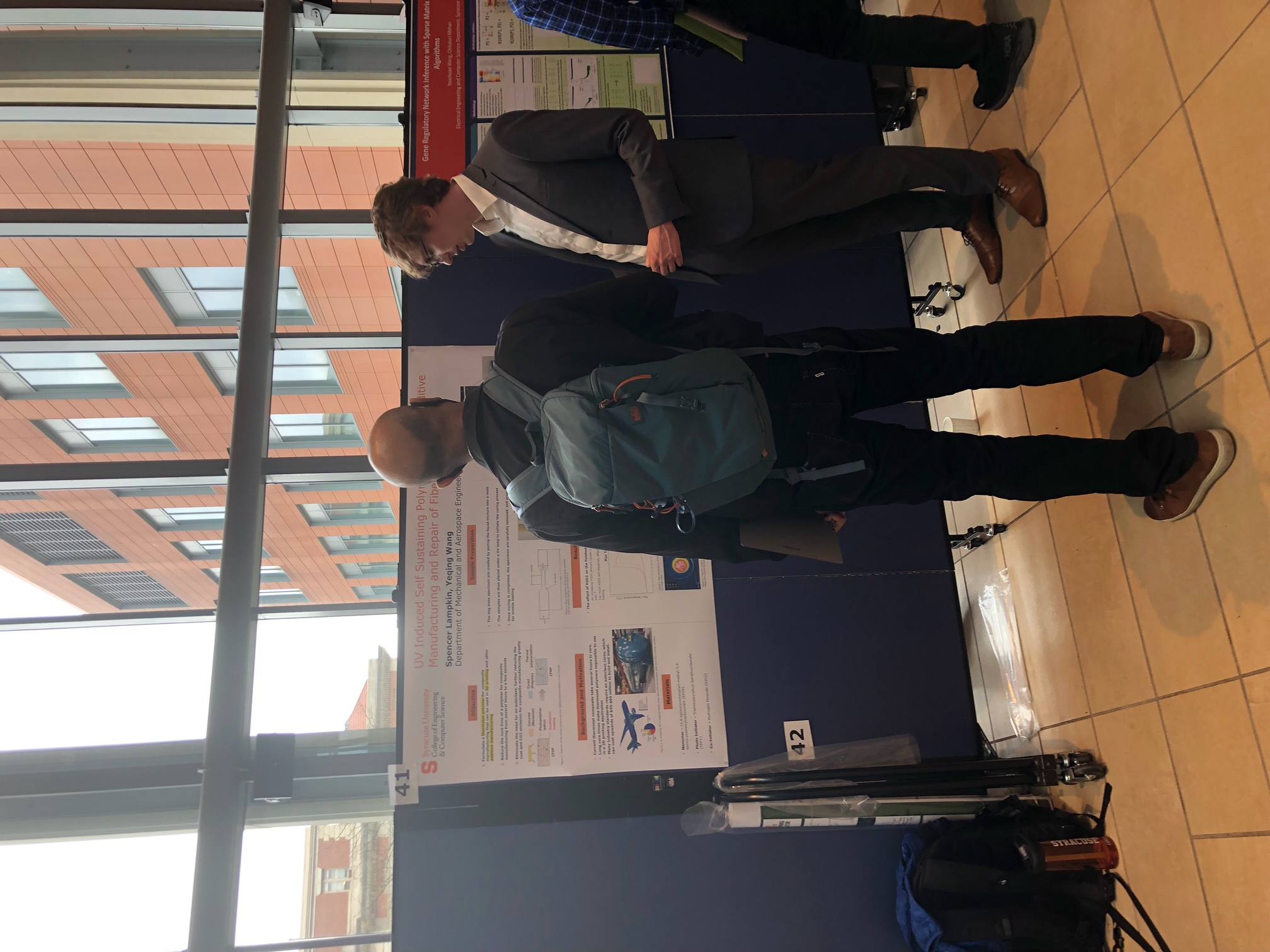 ---
09/21/2021
Graduate student presented at the 2021 American Society for Composites (ASC) conference (Virtual)!
Wenhua Lin presented our recent research work "Bond Strength Degradation of Adhesive-bonded CFRP Composite Lap Joints after Lightning Strike [PDF]" at the 2021 ASC conference (virtual). Wenhua Lin is currently a PhD student in the SU-CML working on the mechanics of advanced composite materials and structures.

---
06/03/2021
Welcome Anthony Tricarico!
Anthony joined SU-CML as an REU student researcher in summer 2021. He is working on the development of smart composite structures. The project is a collaborative project between SU-CML and Dr. Wanliang Shan's research group (i.e., Smart, Hybrid, Active, and Nature-inspired Materials, Mechanics, and Machines).
---
04/29/2021
Dr. Wang was invited to give a research seminar (online) at the University of Arizona
Dr. Wang presented a research talk on "Lightning Strike Testing & Damage Mitigation Strategies For Aerospace Carbon Fiber Composite Materials: Current Status & Future Recommendations" at the Aerospace and Mechanical Engineering Department of the University of Arizona.

---
11/02/2020
Dr. Wang was invited to give a research seminar (online) at Zhejiang University (China)
Dr. Wang presented a research talk on "Why do We Care About Lightning Strikes for Aerospace Composite Materials?" at the ME Global Cloud Series Seminar at the School of Mechanical Engineering of Zhejiang University.
---